This week's post is all TMH.  
There is no way to sugarcoat the following truth.  When it comes to the design approach on this project, there has never been nor will there ever be any pretense of style-ocracy.  I am the style-tator.   I make the style-cisions.  Luckily, TD trusts my judgement.  And when I say trust I mean doesn't really care.  The formula works for us both.
A few years ago I started throwing pictures of architecture, interiors and design elements I liked onto a Pinterest board.  I reasoned that if I collected enough information about the things that "spoke" to me, I could figure out my style.  I mean our style.
I was also hoping it would help to divorce me from the "pick something someone else would like" rule I used for the mini-renovation on our last house. Hundreds of saved photos combined with several years worth of subscriptions to House Beautiful, Elle Decor, Dwell and Sunset and some clear patterns emerged (yes, dear former colleagues…and I know you know who you are…I can hear you saying 'and now let's put on our nerd hats').
First the good news: my design-centered grounded theory approach worked (still wearing that nerd hat just to be obnoxious).  A clear aesthetic emerged.
Now the bad news for my ego: that aesthetic is not very original.
I'm calling it California-Scandanavian-pinch-of-eclectic-grown-up-comfortable. You can call it "the most popular pins on Pinterest."  You know the look: light walls, white kitchen, mostly neutral furnishings with maybe a rattan accent chair or faded kilim rug to send the message that you've been places (IKEA) and know things (mostly from Instagram).  I love this look.  So does everyone else.
Source: Amber Lewis Designs

I have long been a stalker…I mean fan…of Amber Lewis of Amber Lewis Designs. Her approach is contemporary but laid back, super rich on texture without being overwhelming and so, so Californian.  I even thought for half a second that we might be able  to hire her firm for Via Corona.  But, budget limitations and some kind friends convinced me that I could do the design work myself  (well, and I couldn't even work up the courage to send her an email inquiry).  A fool's errand indeed.
Source: House Beautiful  also, One Kings Lane
Some houses  are a tabula rasa while others tell you what they need.  Part of the draw to Via Corona was that from the minute we stepped in the living room, her message was clear: view, location and light. We've talked about the view ad nauseum.  In terms of location, the house is about a mile from the beach.  The house gets a great ocean breeze and is subject to the early morning (and late afternoon) marine layer.  As for light? It's beautiful in nearly every room in the house.  Light was something we really struggled with on the first floor of our old house so this was something we took note of during the house search.  And there you have it:  our golden triangle–view, location, light.
Source: Camille Styles
Focusing on this triumvirate  has made many of the design decisions easy (except for the part where the Stark antelope carpet I'd been coveting just didn't make sense in this space). So has the fact that once the addition is complete there will be very few walls in the common space and lots of windows and french doors.  The idea is to keep visual distraction to a minimum while creating a super comfortable and functional place to hang out.
Source: My Domaine also, Amber Interiors
We're also picking and choosing our luxuries and bargains.  TD's television and sound system for the entire house were purchased before we even met Via Corona (in his defense it was purchased for the ugly but mean girl house).  I've chosen wide-plank oil finished hardwood for the floors and crazy (for me) Italian porcelain countertops in the kitchen.
Source: Tessa Neustdat
On the flip side, we're going pre-fab and semi custom for the kitchen and bathroom cabinetry, lots of my favorite white subway tile where tile is needed and carpet in the bedrooms.  We're also doing the closet and pantry/laundry shelving installations ourselves (I know this is peanuts to all you seasoned DIYers out there but it's a big deal for us).
We're also keeping to the golden triangle when it comes to furniture.  Because of the way we are opening up the downstairs, the result will be a kind of L-shaped great room.  Dining will blend to living will blend to sitting will blend to kitchen.  After trying many configurations via pen and graph paper it became clear that a sectional was the way to go.
At first I was very disappointed.  Sectionals are SO suburban.  At least that's what I thought.  Luckily they've come a long way from my early 80s memories of  rust-colored plush monstrosities complete with cup holders and dueling recliners.  With the sectional and our existing dining room table serving as the anchors, the rest of the furniture will be collected over time.  You can bet that at some point, this chair, or more realistically, a version that I can afford, will call Via Corona home.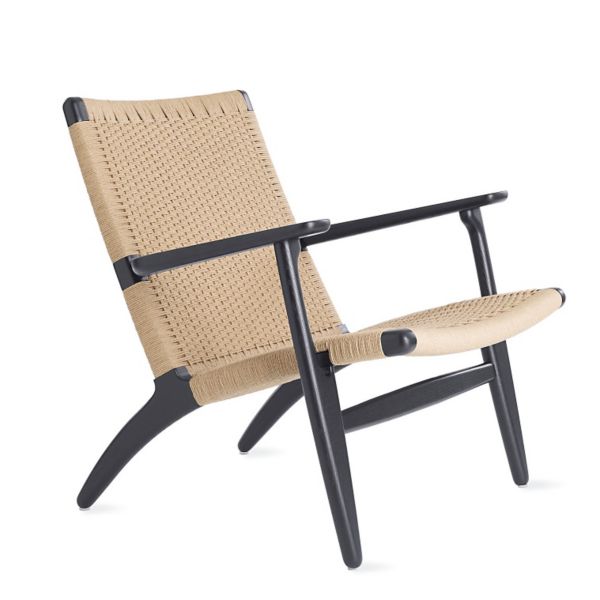 Source: Design within Reach
While we joke about the exterior as "rectangle," the house ever so subtlely suggests colonial and cape cod styles.  In keeping with many of the houses in the area, we're planning to stay simple with a clean white exterior from top to bottom and black accents via the shutters and doors.  And some crown stuff.  There will be some crown stuff…like a weather vane or maybe a door knocker.  You know, classy.
Source: Charm Design
Hardscaping and landscaping will come next year after we've lived in the house for a few months.
No detail too small, we did not forget about the feline contingent of our domestic unit.  TD has made an aggressive lobby for a cat tree or two.  This suggestion has been repeatedly denied.  Style-tatorship has its perks.  However each cat will get a brand new groovy litter box.  Gracie has already called dibs on the orange version.
Source: Modko
I hope the cat in the picture is included.
If you follow-along on Instagram (@TMHostess) you've caught a glimpse of the destruction brought down on Via Corona in the last few weeks.   She's gutted my friends. So, next week we have a double post of "during" pictures.  Tuesday we cover the downstairs while Thursday is up.
Episode 6: Appetite for destruction: Downstairs edition
See all Via Corona posts (to date) here: Via Corona